I've been a fan of NASA for far longer tham I care to remember! Something to do with Quicksilver! Ah that's it, Project Mercury! I'm saddened that we have become blasé about Space Exploration. I think in time we will look back at this period as the start of a great epoch!
NASA have created an awesome website, it's well worth the visit, especially now, as the lander Curiosity is approaching Mars and will be landing in two days time!
Great News the lander has touched down safely!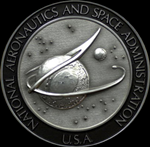 Curiosity Beaming Back Images of Landing From Mars