I couldn't miss this opportunity to pay homage to Scotland's Greatest Poet!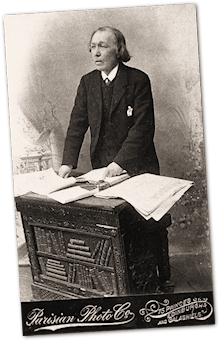 William Topaz McGonagall, poet and tragedian of Dundee, has been widely hailed as the writer of the worst poetry in the English language. A self-educated hand loom weaver from Dundee, he discovered his discordant muse in 1877 and embarked upon a 25 year career as a working poet, delighting and appalling audiences across Scotland and beyond.
His audiences threw rotten fish at him, the authorities banned his performances, and he died a pauper over a century ago. But his books remain in print to this day, and he's remembered and quoted long after more talented contemporaries have been forgotten.
This site provides a comprehensive guide to the life and works of William McGonagall, including 242 of his best(?) poems and his remarkable (and unintentionally hilarious) autobiography.